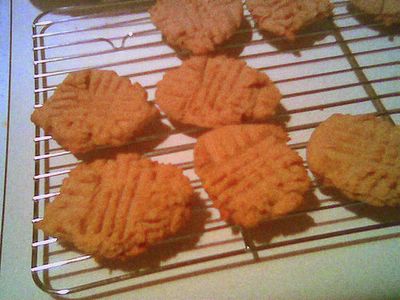 NO MORE STUDYING! you know it's coming to a head when i bake in the middle of week...introducing peanut butter crisscrosses according to the King Arthur Flour Baking Book again...
except that i STILL have no vanilla extract. so i just left it out. and i didn't have any shortening, so i just used margerine...what's a poor, starving student to do? otherwise i simply halved the recipe. the chew is perfect. and next time...CRUNCHY peanut butter!

1 stick of SOLID FAT ;)
1/2 cup of white sugar
1/2 cup of brown sugar
1/2 cup of peanut butter
1 egg
(and here's where the vanilla should've gone, i never measure vanilla, so i dunno how much)
then i sifted together and added the following
1/2 tsp of baking soda
1/4 tsp of salt
Oven at 350: 10-12 minutes. my oven took the extra two minutes. i would make these again.