EoMEoTE #5
:
so this is ALMOST eggs on toast...some of the eggs IS technically ON toast, so we're still eligible. :D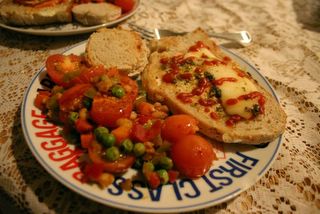 eggs IN toast
we cut a THICK slice of desem bread. at any rate, i do think that it's mandatory to use a sourdough. took a glass and cut a squarish hole out of it. I don't know how squares got into this version, but so it did. So we oiled up the pan a little bit and then broke the egg into the holes, salted and peppered. (the leftover pieces of bread were dumped into the toaster to toast.) As soon as one side of the egg got cooked pretty well, we flipped them. And add a slice of muenster to each, a bit of pesto spread, and then a swirl of sriracha sauce. i didn't think the sriracha sauce would work out that great w/ the pesto, but it worked GREAT. and then we simply fried up some cherry tomatoes, and the last bit of frozen peppers, peas and carrots. (that's how professional student dine...on frozen foods. ;) and for a little bit of texture, some walnuts were crumbled in...
so here it is...EGGS IN TOAST...